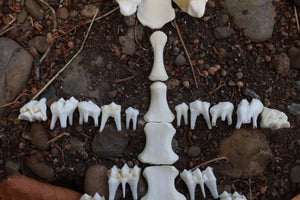 Whitetail Fawn Bone Lot
Whitetail Fawn Bone Lot for sale! This listing is for the real Whitetail Fawn Bone Lot pictured! This Bone Lot features two Scapula, five Sternum bones, a damaged mandible, and18 teeth! If you have any questions please message us!
Please note, this Fawn was donated to us by another Taxidermist who legally salvaged them after an unfortunate traffic collision. We do not harm animals for our work.
This are real Whitetail Fawn bones, we do not sell replicas.