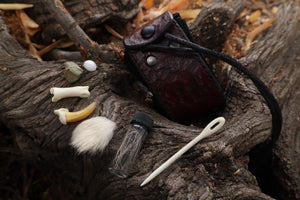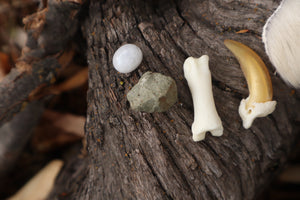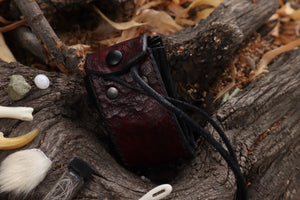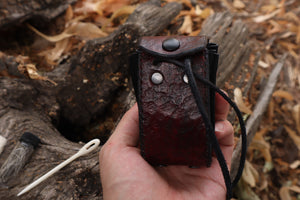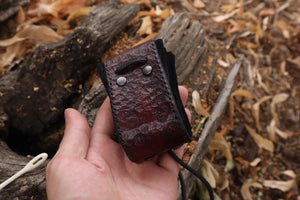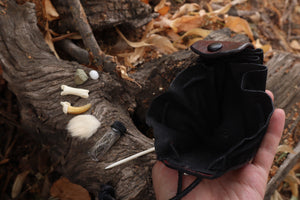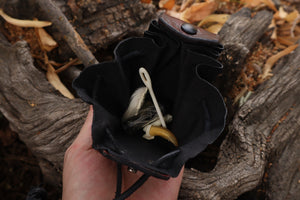 Wolf Fylgja Pouch
Wolf Fylgja Pouch for sale! This listing is for the handmade leather Wolf Fylgja Pouch and contents pictured! This set includes a real hand carved Wolf bone sewing needle, a jar of Wolf Hair, a small section of tanned Wolf leather and fur, a Wolf claw, a Wolf toe, a stone taken from a Wolf's mouth, and a small moonstone! The leather bag, bones, and fur have all been processed and/or crafted in our studio from start to finish. The Pouch measures approximately 3.5" tall by 2" wide.
The Fylgur in Scandinavian culture are protective familiar spirits which often appear in the guise of an animal. Fylgur were believed to be important to the legendary berserkers and shapeshifters, specifically the Wolf and Bear Fylgur as their ferociousness and power could be called upon to aid in battle. 
Please note, these parts have been sourced from Northern Rocky Mountain Timber Wolves, the Northern Rocky Mountain Timber Wolf is a subspecies of the Gray Wolf located in the Northern Rocky Mountain range. This is not an ESA-listed sub-species and is legal to sell and posses. Idaho Fish and Game Mortality Reports available on request. 
These are real Wolf parts and leather, we do not sell replicas. 
Please know your state laws before buying Wolf parts! If you have any questions feel free to send us a DM or email!