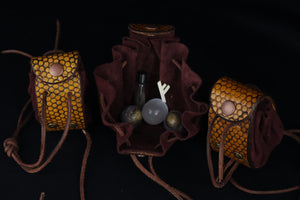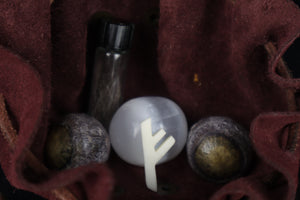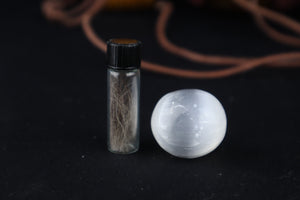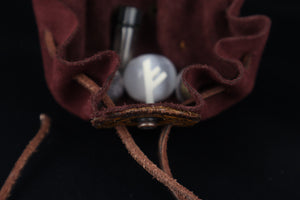 Wolf Spirit Pouch
Wolf Spirit Pouch for sale! This listing is for the handmade Wolf Spirit Pouch and contents pictured! This set includes a small vintage jar filled with Black Wolf Fur, Real Dry Preserved Gray Wolf Eyeballs, a hand carved Gray Wolf Fehu rune, and a real Selenite "Moon". The set also includes the custom handmade and dyed leather pouch pictured. The bone rune is in the shape of Fehu, the rune for luck, abundance, and wealth. All of which was created from start to finish in our studio! The Pouch measures approximately 3.5" tall by 2" wide.
These are real Wolf parts and leather, we do not sell replicas. 
Please know your state laws before buying Wolf parts! If you have any questions feel free to send us a DM or email!