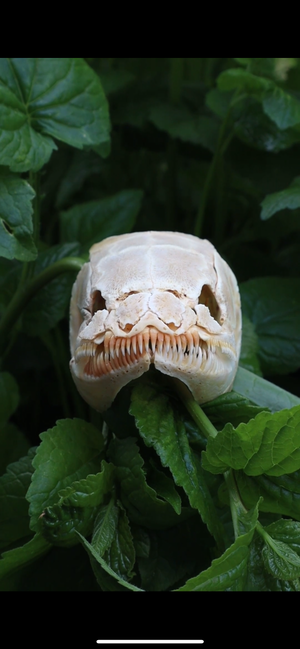 Reserved for Smoke and Silver - Bowfin Fish Skull
Real Bowfin Fish Skull for sale! You will receive the Bowfin Skull Pictured! Often called an Ancient fish, "The modern bowfin species descends from an ancient line of fish that dates back to the Jurassic period some 145 to 200 million years ago. It is sometimes called a "primitive fish" or "living fossil" because it has changed relatively little compared to its ancestors many millions of years ago." This breathtaking little specimen has gorgeous and ferocious teeth!
This Skull was gifted to us by a friend long ago and was then further processed and articulated in our studio. The skull has been degreased and whitened/disinfected, however there is still some discoloration present. This is a partial skull due to some missing pieces, please refer to the video. If you'd like to see more photos, have a question or would like a custom display created after the auction feel free to Dm us!!